Description
These plugins are for the ATI Remote Wonder Software to control the corresponding software with the Remote.
Easy to customize, because many buttons can be configured.
Built in update checker.
Free for any kind of use. (private and commercial)
Screenshots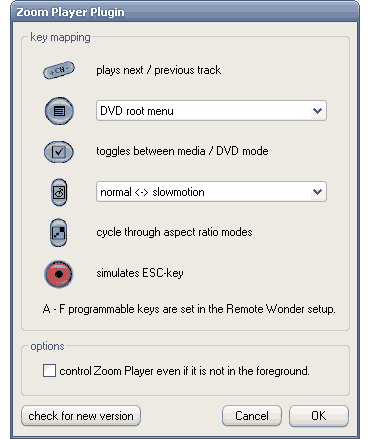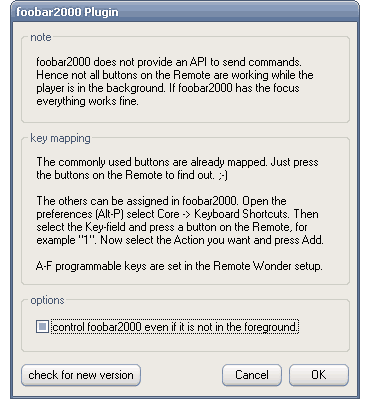 Changelog
Zoom Player

14.05.2005: Bugfix release.
04.09.2004: Almost every keycombination can be assigned to the 0-9 buttons.
27.08.2004: The programable keys A-F can now be configured to cycle through audiotracks.
21.08.2004: New option to cycle through subtitles.
25.07.2004: Better compatibility with the foobar2000 plugin and Zoom Player detection speed up.
17.07.2004: Minor GUI changes and an updatefunction added. Stopwatch and Menukey are configureable now.
28.06.2004: The volume is now changed in the Zoom Player not in Windows.
21.06.2004: Toggle between window and fullscreen added.
09.06.2004: Zoom Player can now be controlled even if it is not in the foreground. To enable it press the "configure"-button in the ATI software.
31.05.2004: Bugfix: next / previous chapter
Foobar2000
21.10.2006: Update to support foobar2000 0.9x
29.08.2004: Fixed detection of ATI MMC. They changed the filename in the version 9.02.
25.07.2004: First release.
Contact
If you have a suggestion or a problem please
drop me a line
to let me know! Don't hesitiate to get in touch. I look forward to hearing from you!